Shoji Hamada, Ryoji Koie, Jun Kaneko, Peter Voulkos; all have made some very big pots, and all have treated ceramics as a performance art. The motion, even drama of making, whether in the privacy of the studio or the public arena of workshop demonstration, has been integral to their practice. The process feeds the potter and it feeds the pots, the 'bodily transference' about which Michael Cardew and Patrick Heron have written. Heron has described the matter of making as an innately physical act of expression, a pent-up creative tension released from the diaphragm and through the arm and hands. Artists like Voulkos or Koie have worked rapidly, with a kind of gestural attack. As Voulkos said, 'The quicker I work the better…if I start thinking and planning, I start contriving and designing. I work mostly from gut feeling.'
The apparently quieter, more reticent Lee Kang-Hyo has his own dance of making, almost like a ballet, a bodily freeing-up which releases his mind too. My potter father even compared sweeping his workshop floor to a kind of dance, with its own rhythms. There are particular motions involved when Lee prepares a roll of clay, when he builds or throws or decorates the surfaces of his pots, which range from small bowls, faceted bottles and caddies to his powerful 'onggi' jars. These jars adopt a traditional Korean earthenware shape (historically made for food storage and fermentation), ideal for his interest in 'space and mass' and the expressive ideas of this very modern artist.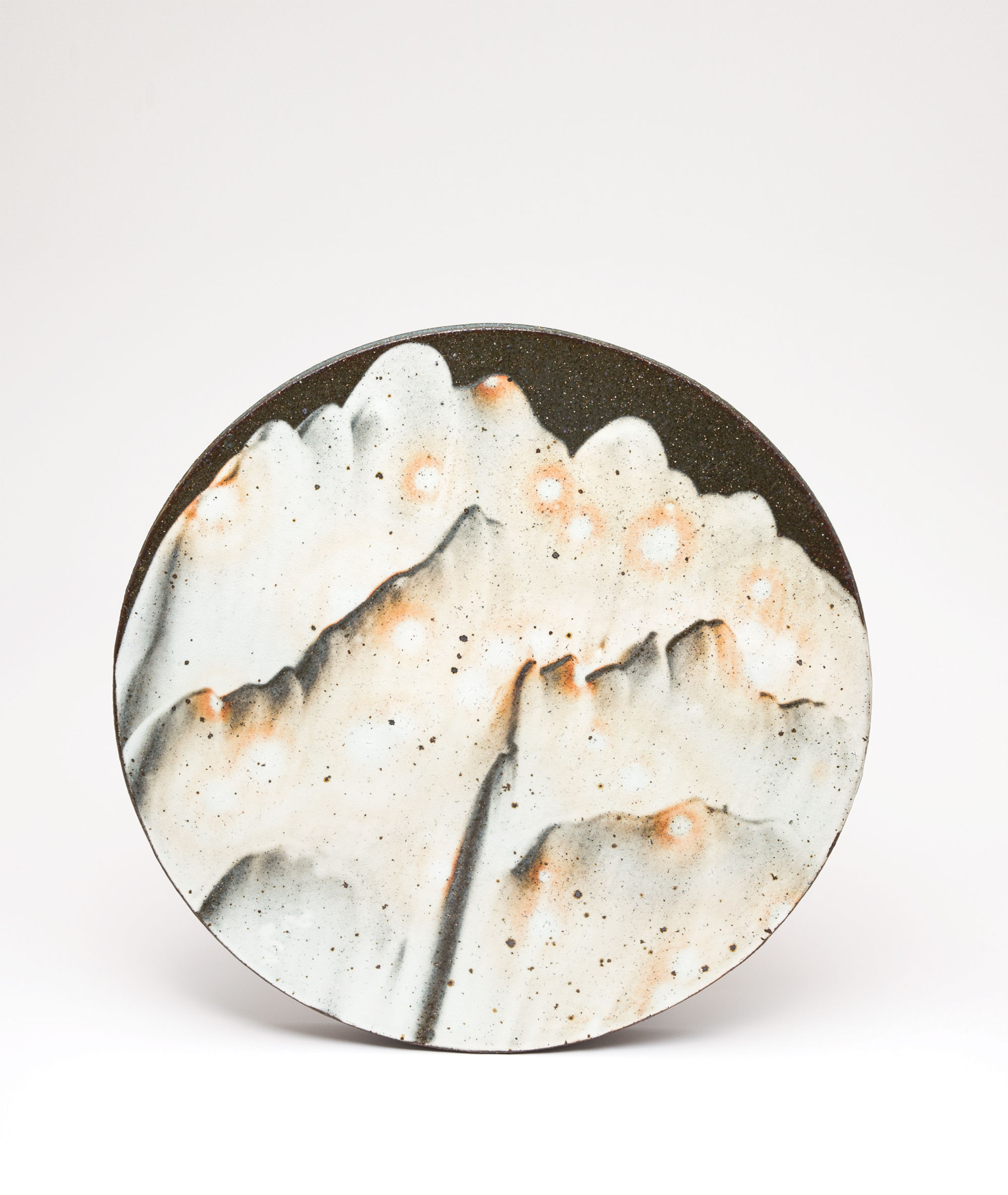 'Sculptural' is a term bandied about by critics to describe a whole range of ceramics that work beyond the table (though of course the best tableware has many of its qualities). Lee's pots are rooted in function, but they have a sculptural boldness and simplicity with their upward swelling movement, their containment which grows and expands, all part of the feeling that is so integral to Lee when he is potting. Like Voulkos he stresses the gut quality in what he does, the fact that it is a deeply instinctive process. Slips are poured, flicked and spattered on to his onggi jars until there is a total covering which he may spread by hand before a fresh coat is applied and perhaps the surface scored through with various marks. These coverings have considerable depth, a kind of impasto, but there is a nuanced subtlety in the fluid textures that result. This whole activity is part of the loosening up that followed conversations with the Japanese potter Ryoji Koie, who observed that Lee was 'locked into himself', and needed to adopt a much freer, more open philosophy.
Despite the vigour of their making, there is also a great sense of pause and stillness in what Lee does. He talks about the energy and the calm in his work being one and the same; 'I use clay, but it all comes out of my body…I express myself differently, it depends on the kind of energy I have when I make each pot.' His surfaces remind one of modern abstraction in painting, but more fundamentally they evoke aspects of nature, the surfaces of stones and pebbles, the bark of a tree, the textures of cloudscapes. As he says, 'the everlasting theme in my work is based on mountains, fields and sky', and his marking certainly has a soft lyrical quality akin to a range of mystical depictions of Oriental landscapes. They possess this same sense of calm and meditation, of other-worldliness, a sort of Korean sublime.
Lee's big moon jars also epitomise that 'love of the fullness of form and volume', so important to him, and 'fullness' is certainly how we would describe his pots. They have all the ethereality of their Korean tradition, with their varied white slips, perhaps animated by the quietest stroke of a stiff brush, adding a horizontal ripple. Lee's pots have their own weather and atmosphere; a flattened bottle has flecked surfaces like thickly falling snow, a lidded box is glazed like a water surface, with the blurred colours and shapes of reflection. Or we could be looking into the changing, flickering light and abstractions of a leaf canopy. Lee's palette is earthy and beautifully wintery, full of the delicacy, the pale hues and mists of the colder Korean months. Bottles and plates are spirited by incised trees and grasses, stirring in the wind. Given his materials, his techniques and inspiration, Lee is certainly a potter of the Four Elements.
His second Goldmark exhibition is probably his strongest show to date, a rich collection of forms; small jugs wiped with hakame, others crisply faceted and mottled by the kiln. There are the quietest bottles, cylindrical or paddled, and dark plates with breezy willow decoration. There are freely made conical vases with horizontal incising and splayed bases, which show how successfully Lee can give Korean tradition a contemporary voice. Large relaxed bowls, like sagged baskets, are warped and squeezed into new states of plasticity. He has made generous runs of particular shapes; broad flat-form slab pieces with motional layers of slip spread and rubbed over, so-called 'oval' bottles with rapid calligraphic marking, full-bellied globular pots, and series of tactile cups, tea bowls and beakers, some swathed in hakame. All show how variously Lee Kang-Hyo journeys within an idea or theme. He says, 'Making art is like setting off to travel to places to find peace in the mind.' It is wonderful that we too can partake in this remarkable voyage.
David Whiting is an art critic and curator who has written extensively about studio ceramics. He writes regularly for magazines such as Crafts and Ceramic Review, and contributes to the Guardian. He has been external examiner to several leading ceramics courses, and is a trustee of the Anthony Shaw Collection at York Art Gallery. He is a Fellow of the Royal Society of Arts, a member of the International Association of Art Critics, and is on the editorial board of the Interpreting Ceramics electronic journal.